Francine Maisler
Personal details
Birth place
USA
Profession
Casting director
Years active
1991 to present
IMDb
0537892
Boss
Role
Casting director
Original casting
Seasons
1 & 2
First episode
"Listen"
Last episode
"Louder Than Words"
Credits
9 episodes (see below)
Francine Maisler
is a casting director. She cast "
Listen
", the pilot episode of
Boss
. She has also worked on the series
Studio 60 on the Sunset Strip
and the films
The Usual Suspects
(1994),
The Fifth Element
(1997),
Spider-Man
(2002), and
Into the Wild
(2007).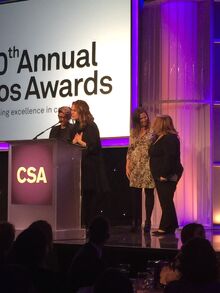 Casting director
Edit
Season 1 credits
"Listen"
"Reflex"
"Swallow"
"Slip"
"Remembered"
"Spit"
"Stasis"
"Choose"
Original casting
Edit
Season 2 credits
"Louder Than Words"
"Through and Through"
"Ablution"
"Redemption"
"Mania"
"Backflash"
"The Conversation"
"Consequence"
"Clinch"
"True Enough"
External links
Edit
Ad blocker interference detected!
Wikia is a free-to-use site that makes money from advertising. We have a modified experience for viewers using ad blockers

Wikia is not accessible if you've made further modifications. Remove the custom ad blocker rule(s) and the page will load as expected.