WELCOME
Welcome to the Boss Wiki!
ABOUT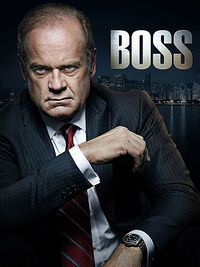 Main article: Episodes
Boss is an American-Canadian political drama television series created by
The series stars Kelsey Grammer as Tom Kane, the mayor of Chicago, who has recently been diagnosed with a degenerative neurological disorder. The series is broadcast in the United States on the premium television service Starz, and is produced by Category 5 Entertainment, Grammnet Productions and Lionsgate Television. It premiered on October 21, 2011.
On September 27, 2011, Starz announced that Boss had been renewed for a second season of ten episodes, which they expect to air in 2012. The series follows Tom Kane, the mayor of Chicago, who has recently been diagnosed with DLB, a degenerative neurological disorder. Determined to remain in charge, Kane conceals the disease from everyone around him except his own physician, Dr Ella Harris. Those around Kane are too busy with their own lives to notice anything unusual. Kane's marriage to his wife Meredith is nothing more than one of convenience. Kane's closest advisors, Kitty O'Neill and Ezra Stone, begin to suspect something is wrong with the Mayor but respect him too much to ask any questions, while State Treasurer Ben Zajac is too busy cultivating his political ambitions to become the next Governor of Illinois to notice anything out of the ordinary.
FEATURED VIDEO
Ad blocker interference detected!
Wikia is a free-to-use site that makes money from advertising. We have a modified experience for viewers using ad blockers

Wikia is not accessible if you've made further modifications. Remove the custom ad blocker rule(s) and the page will load as expected.